Gwyddion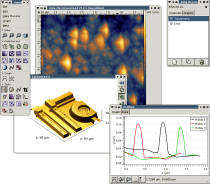 Gwyddion is a modular program for SPM (scanning probe microscopy) data visualization and analysis. Primarily it is intended for analysis of height fields obtained by scanning probe microscopy techniques (AFM, MFM, STM, SNOM/NSOM), however it can be generally used for any other height field and image analysis, for instance for analysis of profilometry data (learn more about Gwyddion features).
Gwyddion is Free and Open Source software, covered by GNU General Public License. It aims to provide multiplatform modular program for 2D data analysis that could be easily extended by modules and plug-ins. Moreover, the status of free software enables to provide source codes to developers and users, which makes the further program improvement easier.
Gwyddion works on GNU/Linux, Microsoft Windows, Mac OS X and FreeBSD operating systems on common architectures, all systems can be used also for developement. Its graphical user interface is based on Gtk+ and port to other systems supported by Gtk+ should be possible.
News
2013-04-01: Petr's talk Use of Gwyddion libraries for your little tasks was added to presentations.
2013-02-21: Version 2.31 "Sixty-four Sharp Splinters" was released. It was long in the making so the list of changes is also quite long.
2013-02-19: MS Windows development snapshots are released as both 32bit and 64bit packages. The Win64 packages are still somewhat experimental and do not include pygwy yet. If you are interested in 64bit MS Windows support please help with testing.
2012
2012-12-07: A patch for version 2.30 was published, fixing crashes if an attempt is made to change the mask colour in various data processing functions. The fix has aleady been present in the nightly builds for some time. However, raising the awareness of this annoying bug will, hopefully, increase the chance the fix finds its way into third-party Gwyddion packages.
2012-12-07: We are happy to announce publishing a book on Quantitative Data Processing in Scanning Probe Microscopy by Elsevier. It includes description of many ideas in (and behind) Gwyddion, as well as basics of different physical quantities measurements and interpretation using Scanning Probe Microscopy.
2012-10-11: A yum repository for Fedora was created at gwyddion.net. Its primary purpose it to ease the setup of cross-compilation environment, nevertheless, it also contains a native Gwyddion package you can use in Fedora.
2012-09-21: Version 2.30 "Circular Creatures" was released, with new grain quantities, rewritten neural network module, some Win32 improvements and the usual bag of file format support fixes and other small changes. See the the complete news.
2012-07-25: A new Win32 installer denoted 2.29-1 was released, correcting an odd startup warning about python27.dll appearing on some systems if Python was not installed.
2012-07-20: Version 2.29 "Is It Raining Unicorns Or What?" was released and it should please all Python scripting fans because the MS Windows package now comes with pygwy included while on Unix a standalone gwy module is available now so you can run Gwyddion Python scripts outside Gwyddion. And median line levelling now supports masking. If you think this is not enough see the full list of good news.
2012-07-20: The SourceForge.net project upgrade have also brought a wiki and web forums. Log in to your SourceForge.net account to edit/post.
2012-07-19: Due to SourceForge.net project upgrade, the subversion URLs have changed. You will probably need a fresh checkout with the new URL for each module. For simple read-only HTTP access checkout for instance http://svn.code.sf.net/p/gwyddion/code/trunk/gwyddion. See the on-line repo browser for other options.
2012-07-15: A new version of the sample standalone module, threshold-example-2.1, was relased. The main change is the removal of MSVC files and support for cross-compilation for Win32 in Linux.
2012-06-06: A page with Gwyddion presentations was added, only containing three at this moment. More should gradually appear.
2012-05-18: Version 2.28 was released with several new file modules and also data processing modules related to simulation of real measurements. See the defailed news for the full list.
2012-05-03: The FreeBSD port of Gwyddion was updated again after a long time and it corresponds to the current stable version 2.27 now, thanks to Muhammad Moinur Rahman.
Thanks
Gwyddion developement is supported by Department of Nanometrology, Czech Metrology Institute.