Gwyddion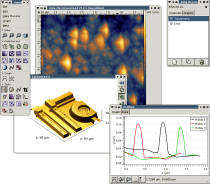 Gwyddion is a modular program for SPM (scanning probe microscopy) data visualization and analysis. Primarily it is intended for analysis of height fields obtained by scanning probe microscopy techniques (AFM, MFM, STM, SNOM/NSOM) and it supports many SPM data formats. However, it can also be used for general height field and image processing, for instance for analysis of profilometry data. See the overview of data processing functions.
Gwyddion is Free and Open Source software, covered by GNU General Public License. It aims to provide a modular program for 2D data processing and analysis that can be easily extended by third-party modules and scripts. Moreover, the status of free software enables to provide the source code to developers and users, which makes the further program improvement easier.
Gwyddion works on GNU/Linux, Microsoft Windows, Mac OS X and FreeBSD operating systems on common architectures, all systems can be used also for developement. Its graphical user interface is based on Gtk+ and porting to other systems supported by Gtk+ should be easy.
News
Current versions
Gwyddion:
2.41
libgwyfile:
0.9
gwydump:
2.1
gwyiew:
2.0
threshold:
2.4
gwyfract:
0.8
2015-05-26: Version 2.41 "Moderate Memories" was released with a large number of smaller improvements and bug fixes. See the detailed news for a full list of changes.
2015-03-31: Version 0.9 of libgwyfile was released. This is a beta version. All planned functionality is generally present, however, it might not be tested properly.
2015-03-13: A Fedora 21 yum repository was finally added. We are sorry for the long delay.
2015-02-07: Version 2.40 "Mean Medians" was released. It contains several new modules and features, however, as nothing was completely rewritten this time and some bugs were fixed, it should be even more stable than the usual stable. See the full list of changes for details.
2014
2014-12-24: The first public version of libgwyfile was released: libgwyfile-0.8. The generic GWY file functionality is complete, however, most functions for convenient reading and writing of Gwyddion GWY files are still missing.
2014-12-07: Work has started on libgwyfile, a small MIT-licensed embeddable library for reading and writing of GWY files. No versioned release has been made yet but it is taking shape fast.
2014-11-14: Version 2.39 "Magnitude and Direction" was released with several new file modules, a new translation and other improvements. The most anticipated feature is, however, probably the rewritten image export. See the full list for details.
2014-09-26: A patch for version 2.38 was published, fixing a crash in Statistical Functions tool when the table is saved to a file. See also Patches.
2014-09-18: A new version of the sample standalone module was released: threshold-example-2.4. It includes support for integrated help, introduced in Gwyddion 2.38, and fixes version check issues. So the sample module is still compatible with older versions of Gwyddion.
2014-09-18: Version 2.38 "Index Infiltration" was released, featuring an integrated help (sort of), a bunch of new file modules, pygwy and volume data processing improvements and more. The detailed news contain the full list.
2014-07-22: The sample standalone module, was moved to Applications, reducing the download page clutter a bit.
2014-06-27: Version 2.37 "Too Technical Tears" was released. It contains a number of mask and grain-related improvements but also a new file module, synthesis module and lots of other goodies. See the detailed news for the full list.
2014-06-13: A page with tutorials was added, including the nice set of video tutorials by Waldemar Smirnov originally published at soft-hummingbird.com.
2014-06-06: The on-line module list is now available in all languages for which a user guide translation exists. The links in language version of the list point to the documentation written in the same language.
2014-04-07: We are happy to announce the publication of a Measurement Science and Technology paper Independent analysis of mechanical data from atomic force microscopy which deals with independent volume force-distance data fitting. The integration of the methods described there to Gwyddion is underway, at least a part should appear in the following version.
2014-04-03: Download links that point to the SourceForge.net file repository were corrected to point directly to the actual files. We are sorry for the inconvenience when they were being redirected to the repository root.
2014-04-02: Version 2.36 "Casual Collider" was released. The main new features are three synthetic data modules but there was a bunch of other changes, see the detailed news for the full list.
Thanks
Gwyddion developement is supported by Department of Nanometrology, Czech Metrology Institute.