Applications
Most of interesting Gwyddion functions are provided as software libraries that you can use in your own programs – SPM related or not (providing that you comply with the GNU General Public License of course). Most of the functions are related to one- and two-dimensional data processing and visualization.
Below we list a few known programs written using Gwyddion libraries:
See also gwydump which is completely independent of Gwyddion, however, it works with Gwyddion files.
gwybatch
gwybatch is a quite simple standalone SPM batch data processing program written in C using Gwyddion libraries. It is command-line oriented and it does not anything very useful as-is, however, it shows how to load, process and save SPM files and you can replace the data processing part with something more interesting.
See also the source code diretly in the Subversion repository.
gwyiew
gwyiew is a quite simple standalone SPM file viewer that makes use of Gwyddion libraries. Its primary purpose is to serve as a comprehensible example – its source code has only slightly over 200 lines.
It can display any SPM file Gwyddion can (except raw and pixmap files that have to imported manually to Gwyddion) and it supports multiple channels even though it only displays one at a time – use PageUp/PageDown to cycle through channels.
Since it is more useful as an example than a real application (although a quick SPM file viewer has certain utility), only the source code is published:
See also the source code diretly in the Subversion repository.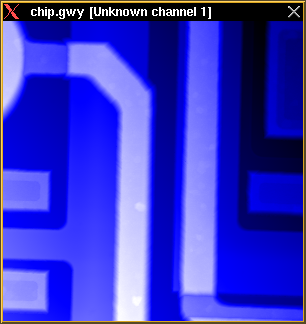 Screenshot of gwyiew showing a sample data file.